Lavender Spindles, Plant Paints... The colourful workshops of Anna Piquardt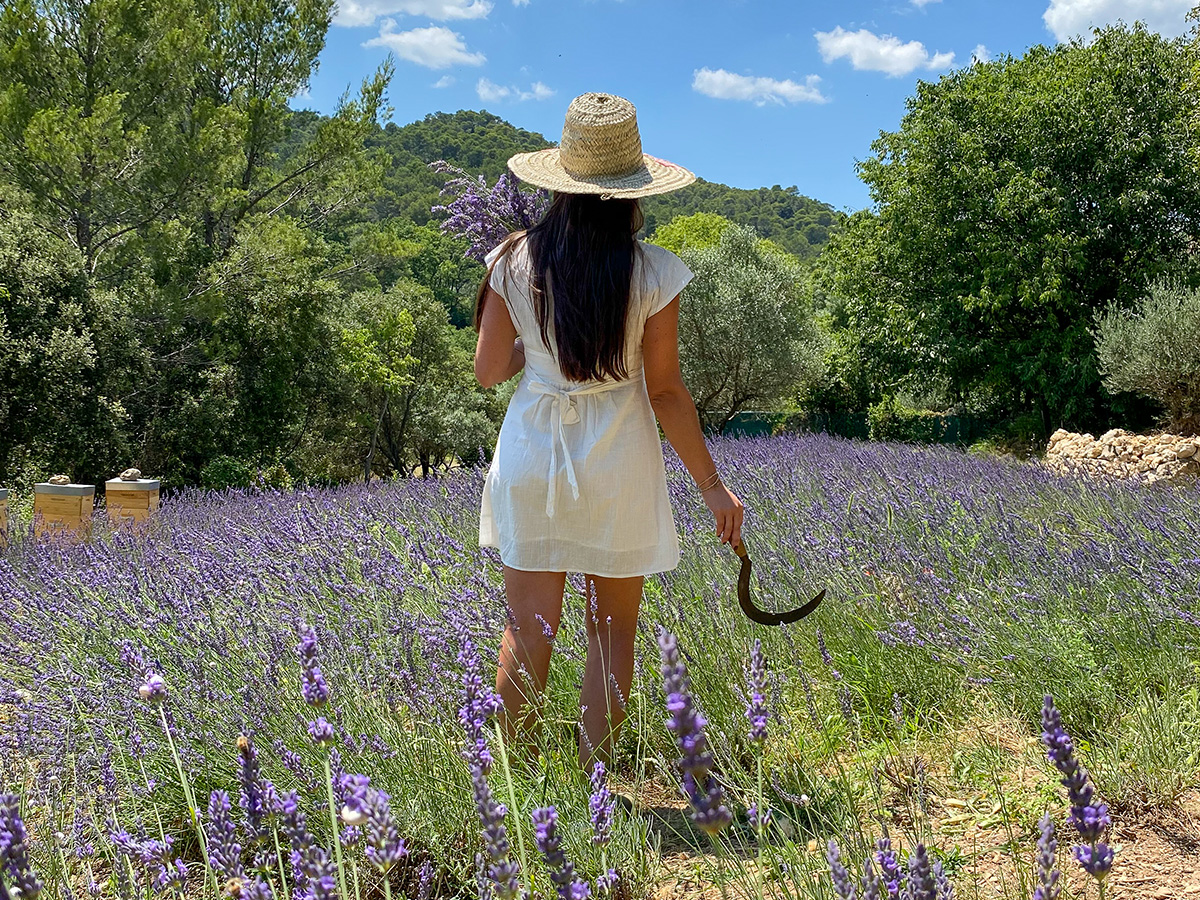 Specialist grower of lavender and tinctorial plants in Barjols, Anna Piquardt offers a series of workshops every summer at Lou Calen. In love with Provence and Provençal traditions since childhood, she particularly enjoys the lavender spindle craft. She is also fascinated by Mapuche textile art, created the indigenous people of Chile, and discovered during her many travels in South America the beauty of plant-dyeing and crafting from particular tinctorial plants.  Anna looks forward to passing on these special and wonderful techniques to all workshop attendees.
Born in Hanover in northern Germany, Anna Piquardt fell in love with Provence when she was very young. She often spent summers in Minguinelle, a small hamlet in ruins which her parents bought before they discovered the village of Barjols. She remembers the joy of getting lost in the wild nature of Provence, its hills and meadows, its colours and its scents – but she also remembers fondly her 'grandmother at heart', a local woman who passed on to Anna a love for plants and ancestral Provençal traditions.
Furthermore, Anna is also deeply committed to the defence of human rights and rights within nature, since she trained in ecology and studied the laws of indigenous peoples. Specifically, she studied Latin American issues and global ecology under Joanna Macy, a well-known and respected practitioner and philosopher in ecopsychology. Meeting a Mapuche poetess in Germany land striking up a friendship led Anna to travel regularly to Temuco in the Araucania region of Chile. These Mapuche lands, punctuated by violence and illegal occupations over the years, have been coveted for decades by the Chilean state for logging, which will of course negatively affect the environment and the Mapuche culture in its spiritual essence.
Les couleurs de Minguinelle
In 2018, Anna left Germany to set up her small farm on the Minguinelle estate, close to where she spent time as a child. There she cultivated plant dye plants with the aim of opening a textile workshop and experiment with juice extraction from plants and flowers acquired in Germany in the Sevengardens way. She improved her method of fabric production by using lavender essence; and being such a fun of the lavender plant, she trained in lavender spindle crafting, with the aim of passing on these traditional and soon-forgotten skills to younger generations. Today, Anna travels across Provence with her workshops and enjoys meeting locals in markets, in retirement homes, while also regularly returning to Germany to educate schoolchildren about plant dyeing, textile production, and the truth worth of these methods handed down by the Mapuche culture.
Anna Piquardt comes with Lou Calen for a series of workshops around plant-dye paint crafts and lavender spindles making.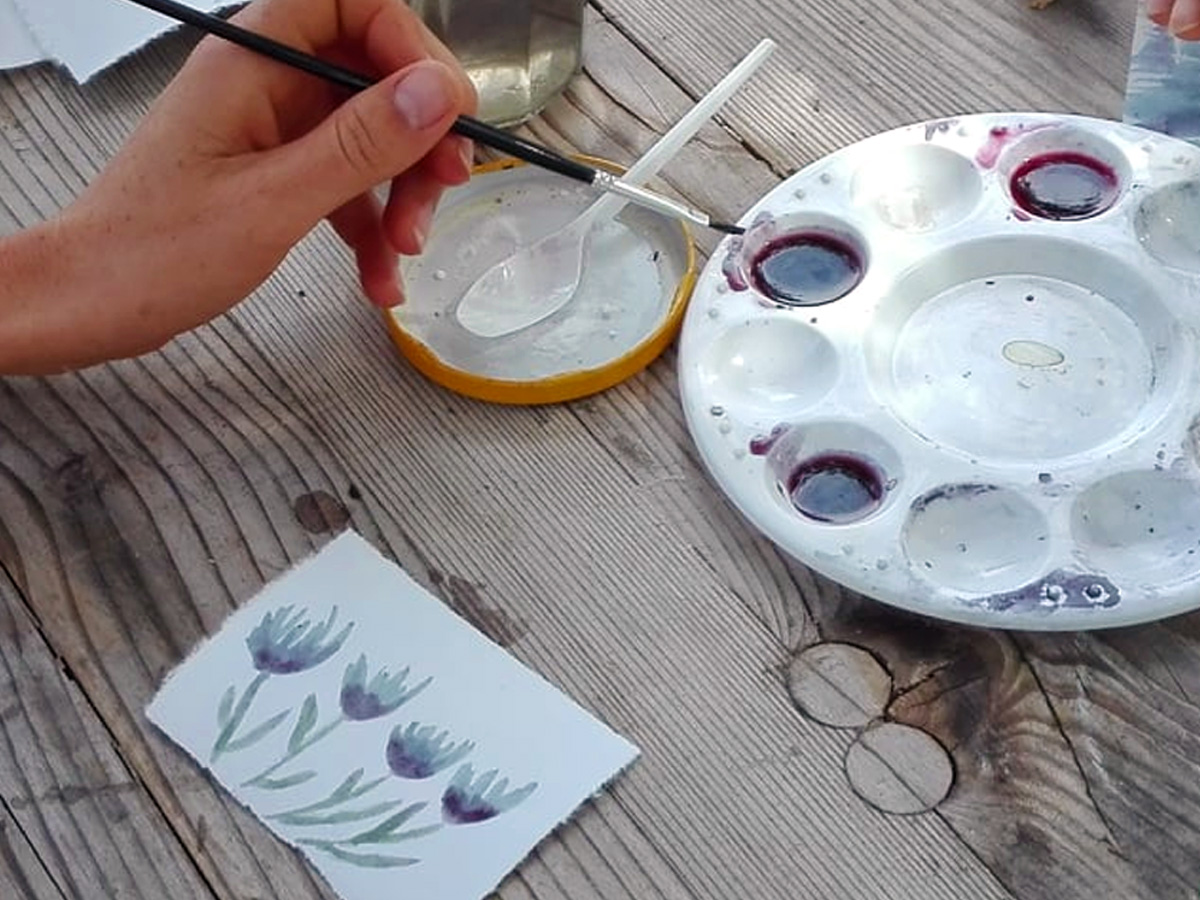 Did you know that you can make ink from vegetables and their tinctorial plants? Orange sulphureus cosmos, safflower, black hollyhock, chamomille… these are all wonderful plants to use for dyeing and colouring. Anna Piquardt cultivates these particular plants on her land and during this workshop she will show you how to transform them into watercolour paints.
In particular, you will learn how to extract the juice from fresh flowers using a pestle and mortar, which is then transformed into watercolour ink with gum arabic and glycerin. With these pretty and organic colours, you will be able to decorate your very own unique and original postcard, and then finish with a message written with a feather pen crafted by you!
A wonderfully creative and personalised gift for a loved one!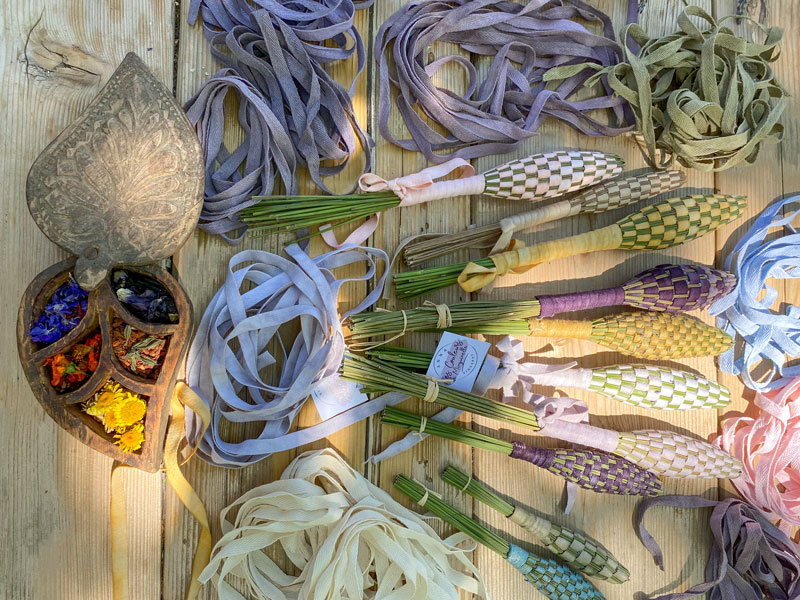 Lavender Spindle Workshop
Provençal peasants have cultivated lavender from the 18th century onwards, and usually for the purpose of Grasse perfume designers. The first spindles were then created and used in linen cupboard to scent the clean linen and keep moths away. Passed down from generation to generation, the craft of weaving lavender spindles still carries its own secrets from family to family. The traditional method consists of enclosing the pretty lavender flowers inside their stems, and then weaving them together with a linen ribbon.
Duing this workshop, Anna Piquardt will help you discover the different wild varieties of lavender – from fine mountain lavender, to Aspic lavender that grows in meadows, to organic lavender which she herself grows. Get stuck in and learn how to how to gather them, how to sort them, and how to weave it all together with a beautiful ribbon. 
Anna Piquardt will take you through each stage of the craft to create your very own lavender spindle, a unique and charming souvenir with a gorgeous scent.