An artistic retreat in Provence with Gilles Dugenet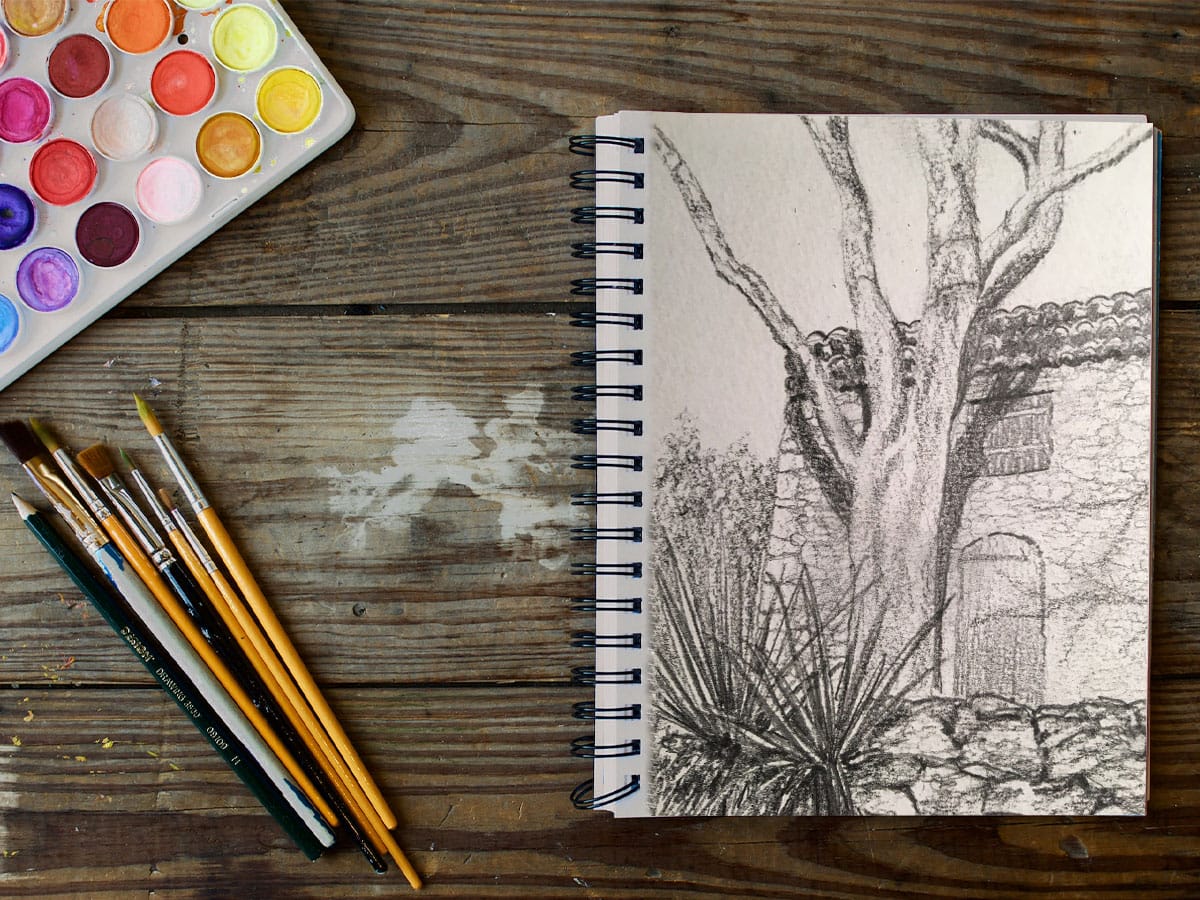 Leaving the daily grind behind to find new inspiration and focus on creative expression is a typical ritual of many artists. The colours of Provence, its light and landscapes that shift with the seasons, have inspired the world's most beloved painters such as Cézanne and Van Gogh.
Provence is an inexhaustible source of creativity, where Gilles Dugenet invites you to dive in and find your inspiration, emotion, and expression, for a workshop or an artistic retreat.
An artistic retreat in Provence
In the almost ethereal setting of a medieval town, cosy Provençal houses, and an epic troglodyte cliff, Cotignac is the perfect place to find the true artist within you. Gilles Dugenet has chosen a dozen inspiring sites in the village to give inspiration and help you get in touch with your artistic expression.
Using simple pencil and graphite drawing techniques to capture the balance of light and shadow, alongside a few touches of watercolor, Gilles will encourage you to create a series of small drawings and paintings in a sketchbook that can be cherished long after your retreat! Not to mention the skills you will gain by expressing yourself in this artistic way.
Services included in the offer :
Gilles Dugenet, from architecture to painting
Gilles is a self-taught artist, who has loved painting and drawing since childhood. An architect by training, he quickly discovered that he didn't feel inspired enough sitting in front of a computer screen. Originally from Saint-Raphaël, he was able to open his first artist workship in Entrecasteaux in 1998 with his wife Sandra, who is also an artist, more specifically stone and wood sculptor. Both Gilles and Sandra work together in their Provençal hamlet which is of course nestled in the heart of nature's inspiration.
During his journey as an artist, Gilles tried out different media, starting with wood and then working exclusively with ocher clay in 3 colors. He went on to paint in oils, acrylics, and then watercolours, the medium with which he chose to bring his holiday sketches to life. During this time Gilles produced numerous murals for luxury villas. His style, which is both architectural and dreamlike, suits interior design projects in grand settings such as those. Interestingly, Gilles draws from nature but from memory – memory of a world that is no longer, since he feels that our modern world and society has damaged true nature and its original inspiration. For Gilles, his works are bubbles of serene calm, and a place where dreams thrive and humans cannot destroy.