Get Stuck In to the Organic Saffron Harvest in Cotignac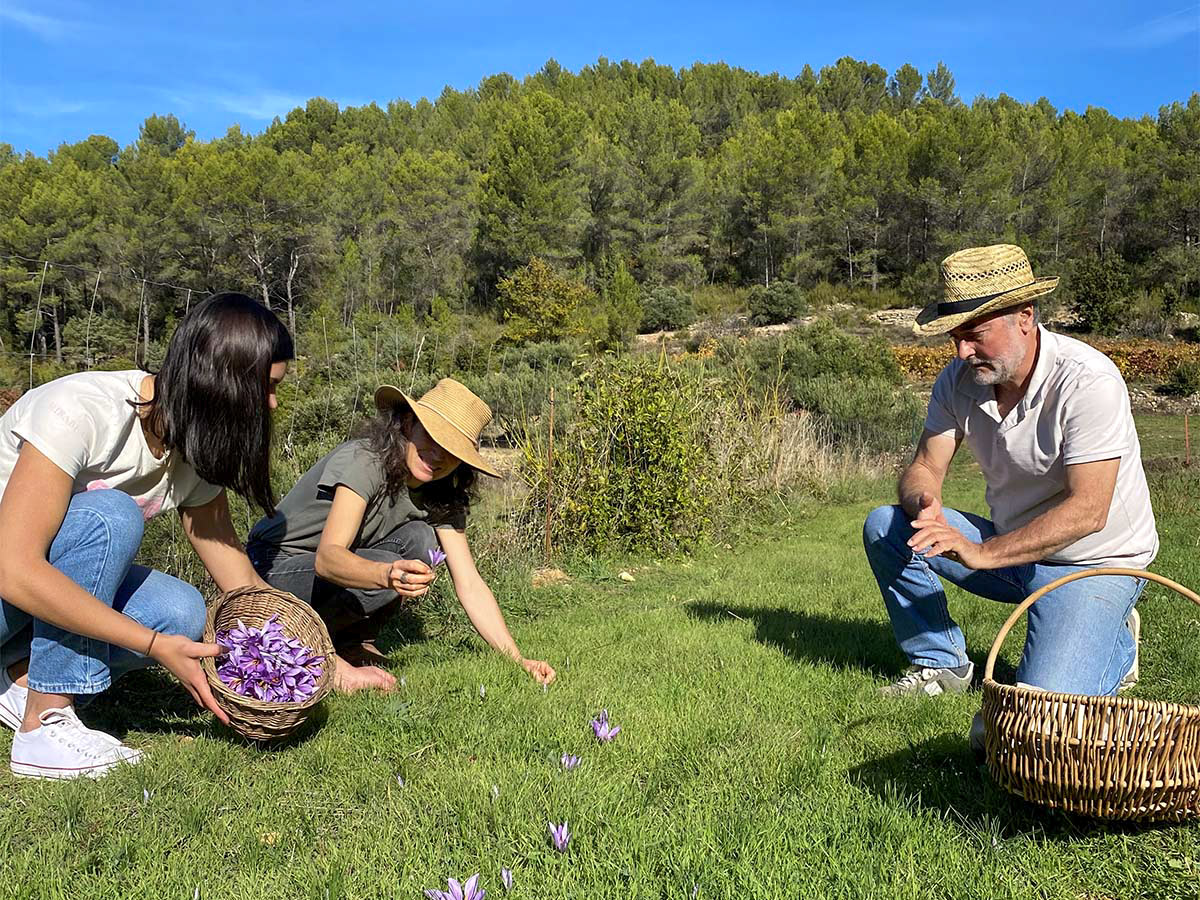 Among the restanques that shape the green hills of Cotignac grows an unusual spice: saffron. It begins to flower in October and blossoms for four weeks.
From October 15 to November 6, Sabine and Jean are ready to guide you towards discovering the magic of the culture of organic saffron, among rosemary and immortals.
Jean Leclercq and Sabine Vicaire met in Cotignac. Jean was a former cabinetmaker in Paris who retrained in viticulture. Sabine was a former telecommunications project manager in Marseille. These two nature lovers were united by the same desire: to return to nature and the treasures to be found in the earth. After many years in the city, Jean and Sabine decided to leave everything behind in search of true authenticity within nature, and to realise their dream.
In 2004 Jean bought a small countryside abode located "in the middle of nowhere", in the hills overlooking the village of Cotignac, accessible only by foot. In this wonderful setting with its extensive views of the Estérel, the days are brought along by the song of birds and scented with thyme and rosemary. Sabine and Jean took it a step further, and decided to cultivate vines, olive trees, and saffron, all of which require little water.
"Our ancestors say that in the last century, each Provençal family cultivated its very own small square of saffron".
Their project started with the clearing of the land and the development of the restanques that bordered the stone hut. They then planted, nearly 6,500 bulbs by hand and one by one. A year later, the first harvest yielded wonderful results: a subtle character to the herb, rich in natural essences which gave the saffron a unique Provençal flavour. In this little natural paradise, ideal for organic farming, the planting, harvesting and pruning are done entirely manually. In this way, Jean and Sabine share their enthusiasm and their tasks with those around them. The harvest usually lasts four intensive weeks, from mid-October to mid-November, and is a great opportunity to bring people together.
The early morning is best for saffron-picking, before the flower is fully open, before the flower fades and the pistils become too difficult to remove. Furthermore, this very delicate flower needs to be handled with care, and therefore, pruning should be done immediately after picking. This is a long and meticulous operation: each flower must be taken one by one by hand in order to remove the three stigmas by pinching them between the thumb and index finger of the other hand. The stigmas, thus separated, deliver the saffron; this can then be properly dried to ensure full conservation of the herb and develop the very special aromatic scent of this spice.
Sabine and Jean would like to invite you to participate in the saffron harvest, and discover everything you need to know about this wonderful herb and its secrets. An enriching experience that Lou Calen proposes you to live every morning, from 10 am to 1 pm, from October 15th to November 6th.
Reservation by email at bonjour@loucalen.com (25€ per person).