Centre d'Art La Falaise : Art Gallery in Cotignac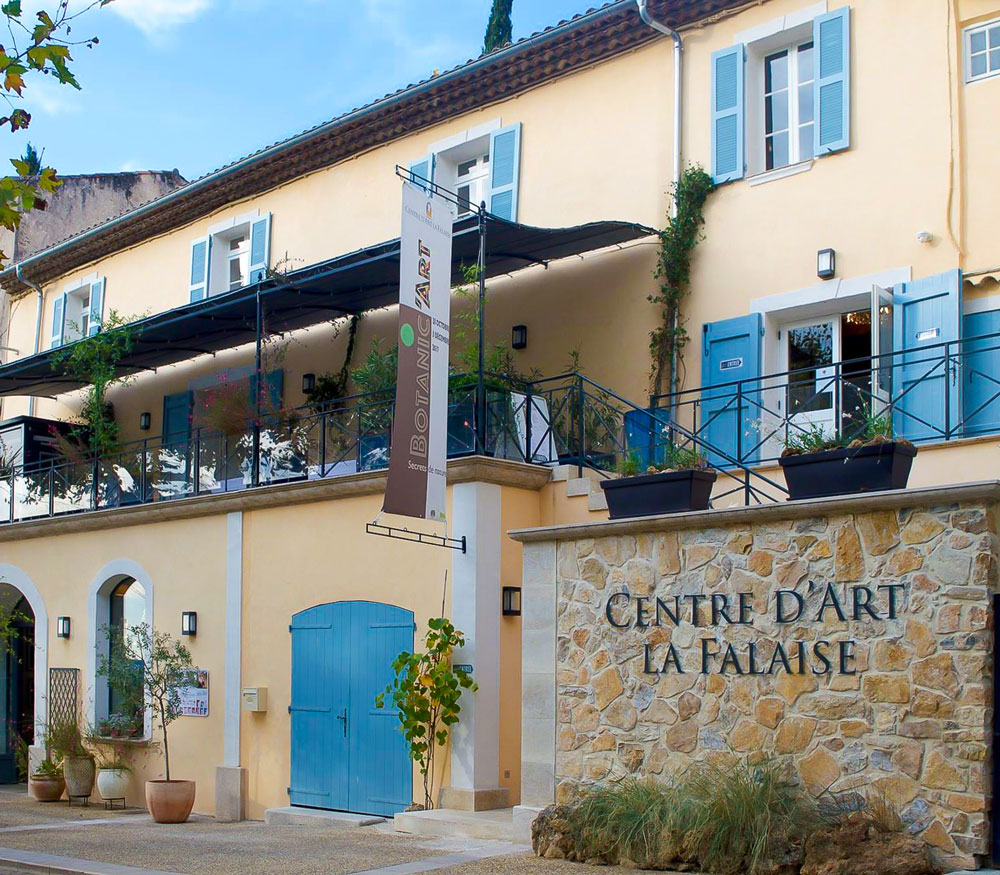 Provençal culture is rich in symbols and traditions but it is also expressed through the arts, as demonstrated by the Centre D'Art La Falaise, nestled in the heart of the village of Cotignac. In this art gallery for paintings, sculptures, engravings, photographs and new forms of expression, art lovers can contemplate the works of recognized or emerging artists, and enjoy an eclectic program of concerts and conferences.
An urban gallery in a rural setting
Within an old chapel of the white penitents from the 17th century, this private art centre took up residence in 2015.  Steeped in history and well known to the inhabitants, this building successively hosted a cinema, restaurant, and garage. The "Cotignac Côté Culture" foundation created this art gallery to exhibit high-calibre modern and contemporary art rarely accessible in rural settings. The foundation also supports artistic initiatives that extend beyond the walls of the art centre. Thanks to its acquisitions and charitable donations, the Center d'Art La Falaise is developing a collection of works of art that will become over the decades the collective memory of this unique place. The endowment fund does not receive any public aid. If you too wish to contribute to the dissemination of art in this remote area, contact the center directly.
Current Exhibit: Louis Féraud, the artist with the golden thimble
From June 27 to October 24, this exhibition takes us into the cheerful and colorful universe of Louis Féraud (1920-1999), famous designer of haute couture and painter. A native of Gagnières, a small village near Arles, Féraud  grew up among the beautiful Arlesian women renowned for their velvet and lace dresses, which greatly inspired his creations. In his youth, Louis Féraud never dreamed of becoming a couturier. It was not until 1958 that he launched his Parisian fashion house on the rue du Faubourg Saint-Honoré, after running a fashion boutique in Cannes.  Fame followed two years later after he designed a little white dress for Brigitte Bardot, muse and inspiration of the greatest artists of the time.  As a result of his newfound celebrity, Féraud was finally welcomed by haute couture and his designs copied by Hollywood.  He was honoured twice with the prestigious "golden thimble" award. In parallel with his career as a couturier, the self-taught artist successfully tried his hand at painting nudes and landscapes inspired by the colors of Provençal nature and the memory of the beautiful Arles women of his childhood. 
The Centre d'Art La Falaise invites you to discover 30 years of creation in this collection of unique and exceptional pieces which honors the great couturier and the painter.