Cotignac Soap Box Race 2nd edition on Saturday, September 30th, 2023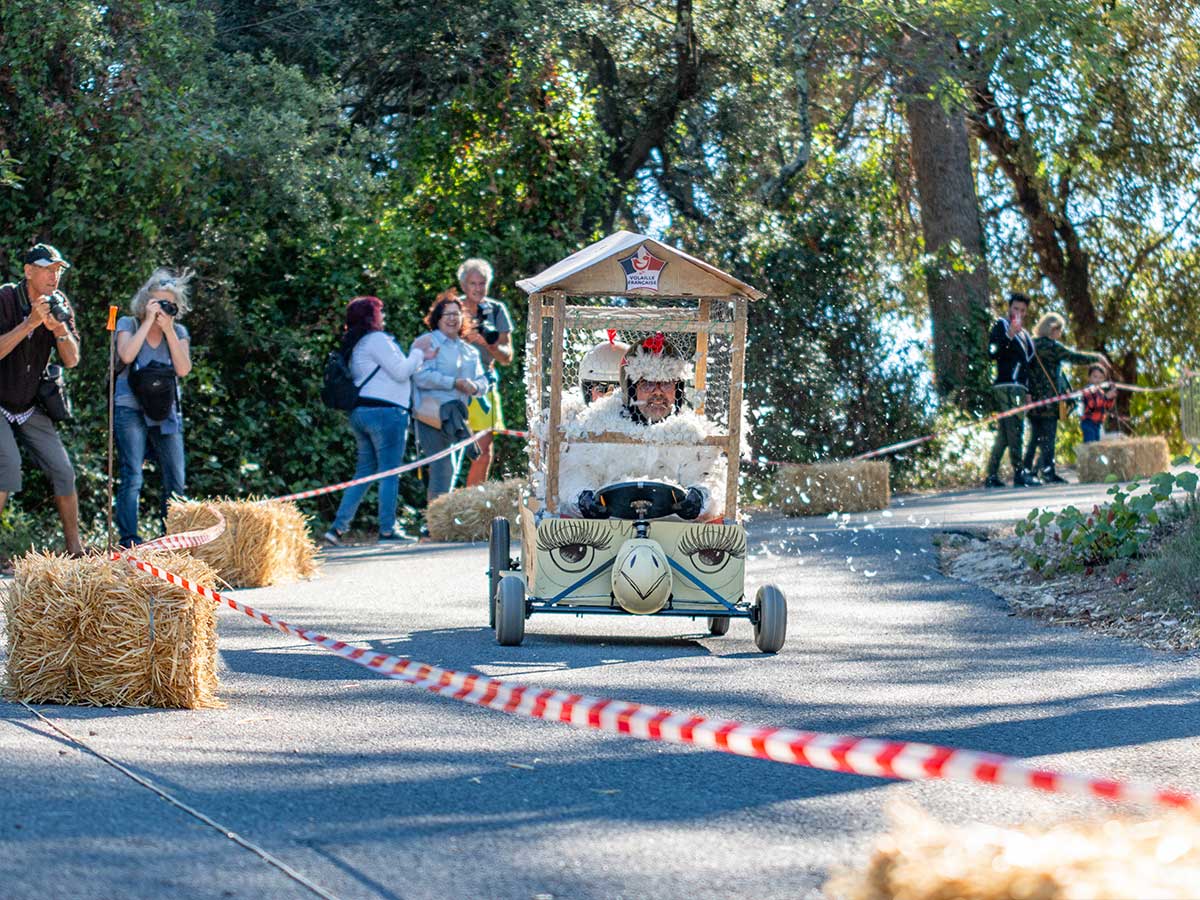 Hear ye, hear ye! There's a huge dollop of fun on the way! On Saturday September 30th, the soap box race in Cotignac will take place.
The race will barrel down the Notre-Dame de Grâces road across two timed runs, and the finish line will offer a refreshment bar with DJ and a prize giving ceremony at Le Tailleur de bière. Let your imagination run free and create the craziest machines to reach the finish line!
The first edition was a great success! Don't delay in registering and starting to build your race car.
Cotignac Grand Prix, 2nd edition
Lou Calen, as the main organiser of the event in association with local figures, challenges the most intrepid of you to create the craziest machines. This second edition of the Grand Prix de Cotignac is open to everyone, from 12 years old to 100! Each crew must have a maximum of two people. The crew will have to use their physical strength to slide down the magnificent 1.2km winding descent which connects the Sanctuary of Notre-Dame de Grâces to Cotignac. Lou Calen encourages participants to use recycled or second-hand materials, since originality and creativity will be highly valued!
The starting signal for this crazy fun day will be given at 9:00 am. Each team will be able to take advantage of a test round to try their soap box car on the circuit. The race will contain two timed rounds, punctuated by a refreshment break with DJ. The team with the best timings and costumes will be rewarded during the prize giving ceremony at 5:30 pm at Le Tailleur de bière.
The story of the "Soap Box Race"
A soap box was originally a vehicle for children made up of a frame, four wheels and two axels, one of which is moveable for steering. The first wheeled vehicle race of this type dates back to Germany in 1904, but it wasn't until 1933 that these races took off in the United States. Then, while the first true automobiles were being developed, an ingenious soap merchant considered the idea of using a vehicle design over the wooden boxes that contained his soaps. This idea spread and suddenly children filled the streets all over the country with their machines, and it soon became very popular all over the world. By the end of the Second World War the "Soap Box" had made its way through Europe with a special focus in Germany. In France, thanks to young activists in the city of Vénissieux, a national prize was created in 1981. The departmental prizes soon multiplied, and the Fédération Française de Caisses à Savon was then created as an umbrella to bring together this fun national trend. This also allowed for the French championship which started in 1984.