Jardin Secret: Essential Provençal cuisine reinvented by Benoit Witz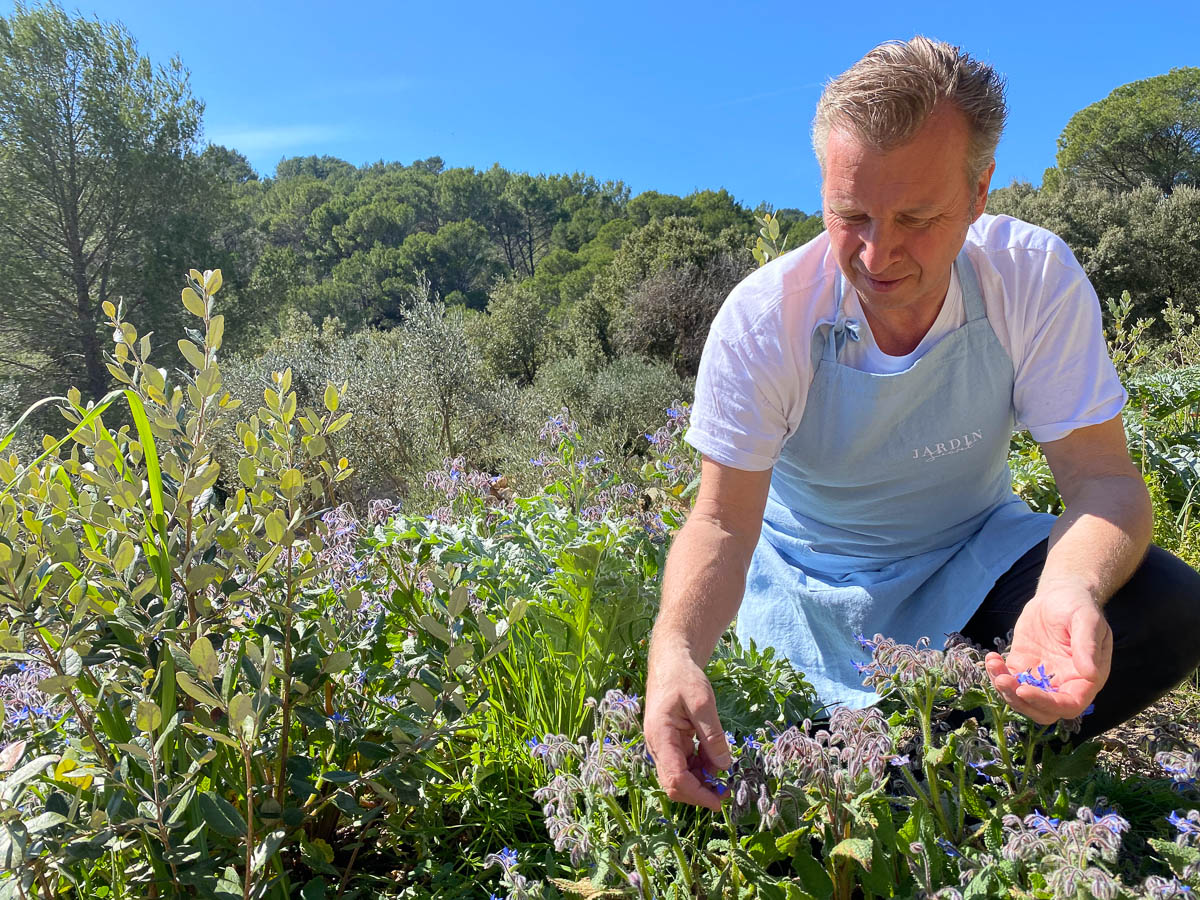 In a 200-year-old Provençal country house nestled in nature, Benoit Witz brings local gastronomy alive. From this fall, the Jardin Secret restaurant offers an intimate, welcoming and warm setting within its 'table d'hôte'. With a generous menu renewed every day, the Chef invites you to rediscover the true taste of Provence.
The restaurant becomes a cosy 'table d'hôte'
Thanks to the cooler evenings drawing in, the Jardin Secret restaurant now happily receives its guests inside its 19th century walls.
In a stylish and lively atmosphere punctuated by vintage records and lavish wooden tables and chairs, you can enjoy hearty and generous dishes, just like at home. With friends, colleagues or family, take a seat by the fireplace in the privacy of the restaurant's lounges.
If you're enjoying an intimate evening for two, Benoit Witz welcomes you to visit the kitchen, and enjoy the particular attention of the 'chef's table' – a unique and privileged moment just a few steps from the stoves. The Jardin Secret restaurant hopes its patrons will enjoy the rich intimacy of indoor dining, from the bustle of the waiters to the delicious aromas of the cooking, to the clinking of the pots in the kitchen.
Before closing from November 7 to December 10, the chef will share his kitchen with two emblematic cooks from Cotignac.  On Sunday, October 24, Benoit Witz will  cook with Huguette Caren, former owner of Lou Calen and precious guardian of its wonderful Provençal recipes.  On Monday, November 1, Nadine Sette, a passionate cook, will join him for an evening.
Benoit Witz applies his culinary craft to create a cuisine deeply rooted in the Provençal Haut-Var territory. In his dishes, Benoit prefers to return to simple and authentic cooking, and thus explores natural Provençal flavours.
The son of a farmer, Benoit grew up in the countryside where happy memories of large family meals inspire his generous cuisine. As such, the enlivening and plentiful Bouillabaisse is a favourite, which the chef offers in two servings: a fish soup, with crispy croutons and red saffron from Cotignac, followed by monkfish, whitefish, mussels and eel cooked in a broth and garnished with fennel and potato. Other favourites are stuffed vegetables, a tender shoulder of lamb, grilled sardines, marinated anchovies. For gastronomy lovers, these Provençal dishes are ready to be discovered.
Benoit Witz is naturally curious, and will celebrate every ingredient of his dishes with its flavours and textures. Thus tomato, aubergine and courgette are featured in ever more creative recipes: for example, round courgette filled with mint and shallots, stuffed and fried courgette flowers, raw courgette shavings served with a courgette flower pesto, basil, vinegar and pine nuts. Benoit signs his culinary signature on regional delights and delicacies.
Benoit Witz carefully selects his ingredients locally, within a short 60 km circuit around Cotignac. Creating links with local producers and contributing to the development of the local economy are values ​​dear to his heart.
Many of Benoit's ingredients come from the Lou Calen estate. He particularly appreciates the aromatic herbs and edible flowers, such as lemon balm, sage, marjoram, oregano, chives, and arrowroot, which are picked every morning from the kitchen garden, nestled in three hectares of unspoiled nature. The fruits from the estate's vines, from the pomegranate trees, the apricot trees, lemon trees and the bitter orange trees also enhance his recipes. The vegetable garden beside the restaurant, which produced its first tomatoes, squash and aubergines this summer, will become the Jardin Secret's preferred supplier in the coming years.
Until then, Benoit enjoys drawing inspiration from the local producers' supply as he composes his daily menu. In the Correns forest, Cécile Penot's agroforestry farm produces fruits and vegetables within a leafy forest. Just outside Cotignac village, the Patoulatchi brothers practice agro-ecological arboriculture and supply vegetables. For summer vegetables specifically, Benoit Witz likes to cook organic and tasty products grown by Matthieu Faure in Fox-Amphoux. Regarding meat – the unmissable Haut-Var pigs, Varages poultry and Sisteron lambs come from the stalls of the butcheries Bara in Barjol and Chez Vincent in Cotignac. Regarding fish – the finest seafood comes from from Marc Ritier, a fishmonger in Marseille. Beyond that, there are Rougier chickpeas, Crau strawberries, and farmhouse ice cream from the Jovents farm in St-Martin-de-Pallières. Benoit Witz has curated a wonderful series of local products for guests to savour at the Jardin Secret.
Autumn in Provence is harvest time. The traditional Provençal vineyard, draws the landscapes from Baux-de-Provence to Nice. In the Haut-Var region, the fertile land is very favourable for organic farming. The vines are spread over 330 hectares and are divided into AOC Côtes de Provence and Vins de Pays du Var.
Equally emblematic of the region, the quince is particular to Cotignac. This small yellow pear-like fruit with its deliciously tangy scent has been cultivated locally for hundreds of years. It can only be eaten when cooked in compote, jam, jelly or syrup. Each year at the end of October, The Cotignac quince festival celebrates this underrated fruit within the region.
Growing wildly locally, we also discover unusual crops such as saffron. Its flowering usually begins in October and lasts for a month, in the middle of the prosperous harvest. Its honeyed taste with sharp notes makes it an extraordinary flavour enhancer.
As winter approaches, the "Rabasse" – more commonly known as the black Var truffle – makes its mark on market stalls, since it is so favourable to the Haut-Var. It must be consumed fresh if its taste and fragrance is to be enjoyed fully.
With this unique and wonderful local and natural ingredients, Benoit Witz creates joy on a plate.
This autumn at the Jardin Secret, the quince will accompany candied meat, or in a sauce around braised beef rondelles. Saffron, truffle and wild mushrooms will bring their rich flavours to an omelette, a risotto or a pasta dish. Seasonal products such as carrots, cabbage, turnip or squash will add textures to casseroles, or as an accompaniment to meat and fish in ever more hearty and generous recipes.
Chef Benoit Witz welcomes you to the Jardin Secret restaurant in Cotignac, from Friday to Tuesday, 12:30 p.m. to 2 p.m; or 7:30 p.m. to 9 p.m. Seasonal closure is from November 7 to December 10.